Quiltfest Oasis Palm Springs
Octoer 6-8, 2016
Quilting is the Best Way to Travel
For those interested in breaking borders to find that perfect quilting design or who simply want to try a new technique, Quiltfest Oasis Palm Springs offers a wide variety of workshops and lectures with an international faculty including Libs Elliott from Canada and Australian Gloria Loughman. Both instructors will be at the Palm Springs Convention Center, October 6 – 8, 2016 offering participants the opportunity to experience a medley of multi-cultural quilting and textile art.
Libs Elliott is a quilter and textile designer who explores the intersection of technology and traditional craft by using generative design to build handmade quilts. A deep appreciation for craftsmanship, design history and future-focused applications are all reflected in her work. As a quilter, Libs' ongoing project is an exploration in how modern technology can transform a traditional craft into modern functional art without abandoning the inherent pleasures of handcrafted products. We have become accustomed to identical mass-produced goods, but Libs believes many of us also crave personalized objects that communicate our individual identities. Libs' goal is to underline the importance of craft as art in our contemporary age by producing bespoke modern heirlooms. Just like quilts from a century ago, these are pieces that can be passed down through generations. All her quilts are randomly designed using a programming language called Processing. This project began in 2012 as a collaboration with designer and technologist, Joshua Davis, who provided the original code framework. Using Processing allows Libs to quickly edit the code and generate random compositions from simple geometric and traditional quilt block shapes. Libs has been quilting since 2009, and lives and works in Toronto, Canada.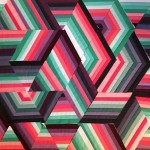 In Palm Springs, Libs will teach 3 full day workshops including Dynamic Stripes on Wednesday, October 5 and repeating the class on Thursday, the 6th. On Saturday, October 8 she will present Embrace the Chaos – An Exercise in Controlled Randomness. Pictured: Dynamic Stripes workshop sample
In addition to the workshops, Libs will also present a lecture titled Quilting with Code: The Quilts of Libs Elliott. In this lecture, Libs will discuss her ongoing exploration of how technology can transform a traditional craft into modern, functional art. She will give attendees a peek into how she works, what inspires her designs and where she finds balance.
Australian Gloria Loughman lives by the sea, on the beautiful
Bellarine Peninsula, in Victoria. Her initiation into the world of quilting occurred approximately 20 years ago. After completing studies in design and color, she began to make her large vivid landscape quilts depicting the Australian bush. Having the opportunity to travel to many unique and fascinating parts of the Australian continent, she finds herself continually challenged to reproduce these images in fabric. These quilts have won many major awards internationally. If you have wanted to learn the techniques that make Gloria a prizewinner, here is your chance. However, be sure to sign-up early – Gloria's classes fill quickly. She really enjoys sharing her knowledge and skills with others. She challenges students to design their own quilts, but is also happy to provide patterns for those less confident.
Gloria will teach two, full-day workshops at Quiltfest Oasis, Light Up Your Landscape on Thursday, and Distinctive Doorways on Friday. Pictured: Light Up Your Landscape class sample.
In addition, Gloria will present a luncheon/lecture on Saturday, Share the Journey. Come and be entertained, listening to a humorous account of life as a contemporary quilt maker, teacher and author. Learn of Gloria's inspiration and the techniques she uses to create her prize winning quilts.  Laugh as you hear of the challenges of working with students around the world, and view beautiful images that will inspire you to start creating your own designs.
Gloria's collection of quilts titled, A Slice of Oz will also be featured at Quiltfest Oasis as a special exhibit.