PIQF prides itself on bringing talented and inspiring instructors to present workshops in Santa Clara. Creativity and expertise are always abundantly available from these wonderful teachers. This year's Pacific International Quilt Festival at the Santa Clara Convention Center, October 12-15, has a spectacular faculty who will be offering a wide variety of workshops for beginner to advanced quilters and textile artists. Included for 2017 are well-known instructors and internationally admired quilters Libs Elliott and Angela Madden.
LIBS ELLIOTT – CANADA
If you visit PIQF instructor Libs Elliott's website, you will see the words TECHNOLOGY and TRADITION. Libs is a textile designer who combines technology with quilting. Using a program language called Processing allows her to create random compositions from simple geometric and traditional quilt block shapes. The Processing project began as collaboration with designer and technologist, Joshua Davis.
Libs states, "My goal is to underline the importance of craft as art in our contemporary age by producing bespoke modern heirlooms – just like quilts from a century ago, these are pieces that can be passed down through generations."
As a quilter, Libs explores how modern technology can transform a traditional and tactile craft into modern functional art. A deep appreciation for craftsmanship, design history and future-focused applications are all reflected in her work. Libs studied Material Art & Design at OCAD University. Her commissions include work for individuals and corporate clients such as Playground Inc. In addition, Libs teaches internationally. She is a designer for Andover Fabrics and lives and works in Toronto, Canada.
Libs will teach three, full-day (9 am – 4 pm) workshops at PIQF:

Embrace the Chaos: An Exercise in Controlled Randomness
Thursday, October 12


Using controlled elements in a random way, each participant will end up with a unique quilt pattern layout that will then be cut from fabric and pieced.
Dynamic Stripes
Friday, October 13
Explore visually dynamic striped piecing and create a stunning and dynamic striped creation.
The Weight of Love Quilt
Saturday, October 14
Spend the day making The Weight of Love your very own by customizing it with your selection of fabrics.
In addition, on Friday afternoon Libs will present her lecture, Quilting with Code: The Quilts of Libs Elliott. In her presentation, she will discuss her ongoing exploration of how technology can transform a traditional craft into modern, functional art. She will give attendees a peek into how she works, what inspires her designs and where she finds balance.
---
ANGELA MADDEN – ENGLAND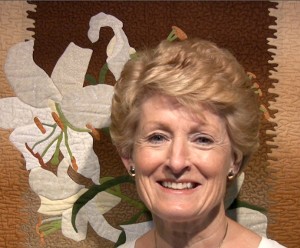 Easy, fast, innovative machine techniques form the basis of 25 years of international teaching, judging, producing books, CDs, tools, patterns, and award winning quilts for Angela who lives about 25 miles north of London in Harpenden,Herts. Angela's techniques are fun and successful for everyone with or without experience or artistic ability. There's a designer original in everyone given the right technique!
The methods she has developed and shares in her workshops are guided by the following principles:
My techniques should be accessible to everyone, no special skills are required.
Projects can be completed on almost any sewing machine.
The techniques are the fastest and most efficient I can find which guarantee success.
Final results should stand scrutiny, reaching the highest possible standards.
I believe that anyone can learn to design and sew original quilts if they have a positive outlook and are taught simple methods.
There are no 'brownie points' in Heaven for doing things the hard way!
Angela's quilting philosophy is "'If sewing isn't successful and fun … why do it?"
While at PIQF, she will teach three, full-day (9 am – 4 pm) workshops:
Sew Easy Celtic
Thursday, October 12
Simply by drawing 'doodles' participants will create beautiful block, border and corner designs with so many surprising and hidden possibilities.
Decorative Edges
Friday, October 13
Explore lots of different ways of creating unusual borders suitable for all quilt styles.
Surprising Silhouettes
Saturday, October 14
Experience a great way to produce original appliqué designs using silhouettes which are easily adapted to any style of quilt.
Angela's Thursday afternoon lecture is sure to strike a chord with many: Confessions of a 30 Year Quilting Addict. "My name is Angela Madden and I am definitely an addict. From unexpectedly being instantly smitten all those years ago to the present day I have happily fed my habit in every way possible. If there's any chance you recognize the symptoms in yourself come and join me for a comprehensive look at the many wonderful temptations which have sustained me over the past 30+ years. Together, strengthened by this joint counselling session, we can actively fight a cure!"
Complete PIQF details are available on quiltfest.com.
Founding Sponsor BERNINA of America/California Sewing & Vacuums; Major Annual Sponsor Brother/Meissner Sewing Centers; Major Sponsors Baby Lock/Gammill/ Meissner Sewing Centers, Husqvarna Viking/U.S. Sewing, and Janome/Ray's Sewing Machine Center; Silver Sponsors Handi Quilter and Innova; and Special Exhibit Sponsor Nolting Manufacturing generously support the Pacific International Quilt Festival.