First Annual National Modern Quilt Competition
Quiltfest Oasis Palm Springs – Pacific International Quilt Festival
The Modern Quilt movement is making itself known across the globe and Mancuso Show Management is continuing to embrace Mod's entry into the world of quilting. For 2016, Quiltfest Oasis Palm Springs and Pacific International Quilt Festival are introducing a National Modern Quilt Competition – "Mid-Century Mod."
Mid-Century Mod emphasizes the look and feel of mid-20th century design. Artists who enter the competition are asked to draw inspiration from this period, reflecting their own exposures or from the work of  artists  such as Joan Miro, Piet Mondrian, Victor Vasarely, Frank Stella, etc.
The online and postmark deadline for Modern Quilt Competition entries is August 30, 2016. Accepted Modern Quilt Competition entries must be available for display at Quiltfest Oasis Palm Springs, October 6-8, 2016 AND at the Pacific International Quilt Festival, October 13-16, 2016.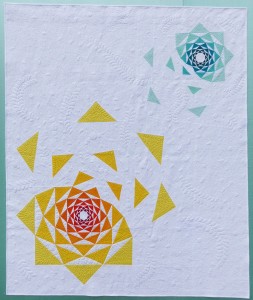 Competition entries to this new juried and judged competition will vie for over $6,000 in prizes generously sponsored by Founding Sponsor Bernina/California Sewing & Vacuums; Major Annual Sponsor Brother / Meissner Sewing Center; Major Sponsors Baby Lock/Eddie's Quilting Bee, Bernina/Ralph's Sewing Center, Gammill, Inc/Meissner Sewing Center, Janome/Ray's Sewing Machine Center; Silver Sponsors ABM International/Innova, HandiQuilter; Special Exhibit Sponsor Nolting Manufacturing and Special Vendor Sponsors Quilters Slidelock, Monica's Quilt and Bead Creations, and SewBatik. Pictured: The Disintegration of the Persistence of Artichokes by Sylvia Schaefer:
Quiltfest Oasis will take place in the Palm Springs Convention Center October 6-8, 2016. The Santa Clara Convention Center in Santa Clara/Bay area is the venue for the 25th annual Pacific International Quilt Festival, October 13-16, 2016.
The Disintegration of the Persistence of Artichokes by Sylvia Schaefer: