Pocono Sew & Vac, major sponsor of The Quilt & Sewing Fest of New Jersey is generously providing Elna sewing machines for participants in three of the Fest's workshops. No need to carry your sewing machine to class – the machines will be set-up and ready for you to use in the following workshops:
Storm at Sea – No More Tears Method© (WS #001) will be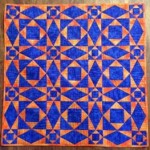 presented by David Sirota on Friday, March 3 between 9:00 am and 4:00 pm.
Paper piecing will never be the same! Be on your way to creating a beautiful and versatile 30" x 30" Storm at Sea wall hanging using a revolutionary paper piecing technique. No More Tears© takes much less time than traditional paper piecing and it enables you to use your paper pattern over and over again. Once you know the technique, you can use it on any paper piecing project. In class you will learn the basics of paper piecing, the No More Tears© method, and Storm at Sea basics plus tips and tricks for precise construction.
Chevron Star – No More Tears Method© (WS #002), also taught by David Sirota, will be on Saturday, March 4, 9:00 am to 4:00 pm.  
Whether you love or hate paper piecing, this class is designed to
help you create the beautiful and versatile Chevron Star quilt. You'll be learning the revolutionary No More Tears© method of paper piecing, which cuts your time in half, enabling you to create even more quilts. Don't believe it? Well, join the class and find out! The design lends itself to scrappy or planned fabric choices. You decide which you'd like to do. In this workshop, you will learn pattern preparation, the No More Tears© Technique, and block and quilt top construction.
Jessica Skultety is presenting Orange Peels and Improv (WS #003) on Thursday, March 9, 9:00 am to 4:00 pm.
Orange peels are beautiful and striking traditional blocks that can be
manipulated in exciting ways. We'll pair them with "planned" improvisational piecing to make a scrap-friendly baby quilt (44" x 55") that you'll be proud to show off! You'll learn the "stitch and flip" method for making orange peels for machine appliqué. Then, you'll use background fabric and Jess's trademark improvisation technique to stitch them into a modern quilt top uniquely your own. Join us!
The thirteenth annual Quilt & Sewing Fest of New Jersey will take place March 2-5, 2017 in the Garden State Exhibit Center, 50 Atrium Drive, Somerset, New Jersey 08873 (just off Exit 10 of I-287). Show hours are 10:00 am to 5:00 pm, Thursday through Saturday and 10:00 am to 4:00 pm on Sunday.
The Fest's Merchants Mall will feature everything for quilt, fiber, wearable and textile artists. In addition, the Fest will present an outstanding collection of quilts and wearable art on display, including the entries to the 2017 Tri-State Quilt Competition. And, because nothing could be better than having more quilts at a quilt show, we will be sharing the winners of the 2017 Mid-Atlantic Quilt Festival quilt competition with QFNJ show-goers. Enjoy the beauty created by some of your fellow quilt artists!
We look forward to seeing you at the Quilt Fest!