The entry deadline for the
Mid-Atlantic Quilt Festival's
Quilt and Wearable Art Competitions
is Tuesday, January 23, 2018.
From February 22-25, 2018, the Mid-Atlantic Quilt Festival at the Hampton Roads Convention Center in Hampton, Virginia will present a beautiful collection of quilts, wearable and textile art. Many of these works will be included in special exhibits, but there will also be many competing in the Festival's quilt and wearable art competitions.

This year's Mid-Atlantic Quilt Competition is themed Imagine. Entrants are asked to relate how they imagined their entries before cutting fabric or starting to sew. Modern quilters are asked to create entries that reflect the theme Mid-Century Mod, emphasizing the look and feel of mid-20th century design. Pictured: Moonswept by Nikki Hill.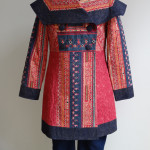 You will also discover unique and creative styles with the spectacular collection of garments displayed in the Mid-Atlantic Wearable Art Competition. These fabulous garments will definitely inspire you to explore new wearable art ideas for your own creation. Pictured: Kilim by Eve Kovacs
Founding Sponsor BERNINA/Nancy's Calico Patch/Cottonwood; Major Annual Sponsor Brother/Tidewater Sew-Vac; Major Sponsors Baby Lock/All Brands, Elna/The Quilters Studio, Gammill/Threads Run Thru It, Janome/ Tidewater Sew-Vac, and Innova Longarm Systems; Silver Sponsor Handi Quilter; and Special Vendor Sponsor Sue Pelland Designs generously sponsor the Mid-Atlantic Quilt Festival and its competitions.
For complete details, including workshop and lecture information, please visit: www.quiltfest.com.