Continuing education and keeping up with industry changes are a big part of today's quilting world. Quilters and textile artists are constantly looking to learn new skills, find new inspiration and build their knowledge base. Mancuso Show Management's events strive to offer a great variety of workshops presented by a renowned faculty for those interested in further learning. World Quilt New England 2016, held August 18-20 at the Center of Manchester in New Hampshire is no exception.
We have the privilege of hosting such an amazing and diverse group of instructors at World Quilt New England and while there are still workshop spaces open, if you are interested in participating in any of the available workshops, please don't wait to sign up. Visit quiltfest.com to register. Here's a sneak peak of what's still available.
Internationally known instructor and South African native, Rosalie Dace brings her expertise in design with her workshops African Motifs in Design and Going Round in Circles. She is also presenting a lunch and lecture on Saturday, August 20 at 12:30pm. Old Traditions, New Directions offers a personal view of the obsessive pleasure and delight (along with a measure of agony) that many quilt makers experience in their art.
Known for her hand dyed fabrics,
fusing and stunning quilts, Frieda Anderson offers 2 full day workshops Thursday and Saturday. Thursday's workshop plays around with lines, shapes, and colors in Creative Crisp Curves – Intentional Improvisational Class. Her Saturday dyeing workshop Flooded with Color teaches you how to dye formulas for 48 shades – a skill that any quilter would certainly "dye" for! Frieda will also present Moving Forward with a New Tradition – Art Quilts, a lecture featuring art quilts on Wednesday, August 17 at 6:00pm.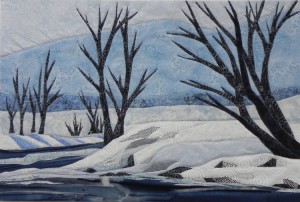 Regional artist, Pamela Druhen is an instructor for all seasons. Pamela uses threadwork to bring texture and depth to her quilts. If you are tired of the hot summer, take Pamela Druhen's full day workshop The Winter Palette on Thursday, August 18. The class explores the blues, blacks and grays of winter in a beautiful quilted landscape. Or, join Pamela's Landscape for Real workshop that delves into creating that perfect quilted landscape. Pamela also will lecture on Thursday, August 18 at 4:30pm where she will share her latest works and answer your questions about technique, color and anything else that comes to mind!
If you are a nature or free-motion aficionado, Marjan Kluepfel offers
3 full day workshops at WQ New England Thursday through Saturday that will sharpen your noggin as well as your needle. Originally, from the Netherlands, Marjan resides in sunny California where her views inspire her uniquely beautiful quilting pieces. She teaches across the world and is one of our favorite instructors to have teach at Mancuso events. Her Thursday workshop, Bobbin Drawing, Thread Painting & Free-Motion Machine Embroidery is a hands on class featuring the title's techniques. Marjan's Friday workshop, Zen and the art of Free Form Fiberscapes teaches essential design principles to make a picturesque fantasy quilt and her Saturday workshop, Shimmering Dragonflies & Sparkling Flowers will use fusing, free-motion machine embroidery, thread painting and bobbin drawing to create a fabric collage.
Do your quilts have something to say? Didi McElroy's Saturday half day AM workshop, Words in Quilts will teach students to incorporate words in their quilts using reverse appliqué. Didi, a world renowned hand quilter will also present her famous full day workshops Needle-Turn Applique 101 and That Perfect Stitch on Thursday and Friday respectively.
With this incredible line up, you won't want to miss your chance to learn from the best. Visit quiltfest.com and register now!