The Pacific International Quilt Festival held at the Santa Clara Convention Center October 13-16, 2016 presents a special 25th anniversary showcase on Friday, October 14 at 7:00 pm, "Fashion Flair 2016." Over the 25 years there has been a tremendous amount of talent in wearable arts featured on the runway.  This year, is no different, talented designers, Viktorya  Allen and Rami Kim present their unique and amazing garments on the runway. The show is for everyone who enjoys fun, flair and fashionable wearable art.
Viktorya Allen has been practicing her art since the 1970's. She is a painter and wearable artist, with a background in quilt making since
the 1980's. A decade later to further her education in art, Viktorya earned a degree from the University of California – Davis in Studio Arts.
Watershed events in her career have included curating and moderating a fashion show for the International Federation of University Women at Stanford University in Palo Alto, CA. In addition, she was the founding President of the Network for Wearable Art. She traveled to South Africa with a fashion show from that organization, subsequently presenting it in Durban, South Africa, as part of the Stars for Africa Quilt Show. Years later, Viktorya was  one of two partners in an online web design and digital media agency until her retirement in 2014, giving her the technology tools to start a Wearable Art Facebook Group, now with 2000+ members.
Viktorya Allen divides her time between Baja California, Mexico, and Northern California USA.
Rami Kim is a DNA scientist-turned fabric artist/quilter/instructor known nationally and internationally. She is a 19-time Best of Show winner, distinguished for her innovative art-to-wear.
Her passion is in contemporary art-to-wear, quilts, cloth dolls and
bags with special interest in 3-dimensional textures.In addition, she is known for her own distinctive colors and techniques. Her first book, Folded Fabric Elegance is about her 3-D texturing techniques and projects. Her second book, Quilted Elegance, focuses on reversible wearable arts, bags and two-sided quilts. The third book, Elegant Cotton, Wool, Silk Quilts was published in autumn 2012.
She graduated from Seoul National University majoring in Chemistry and the University of California – San Francisco (UCSF) majoring in endocrinology and worked at the Cancer Research Institute at UCSF before her passion and talent in fabric art drastically changed this biochemist's career years ago.  She says she'd rather spend even more time with beautiful fabrics and threads and beads than with DNA sequencing gels and radioactive isotopes of cold, gray science.
Rachel D.K Clark, a contemporary folk artist, teacher and lecturer will be moderate the fashion challenge to be presented at the fashion show.  Rachel comes from a long line of sewers, beginning with her great-grandmother. She has been a wearable artist for over 30 years and has taught on the national circuit for more than 20 years. Rachel's work includes eclectic fabric mixes, vibrant designs, and a keen sense of wit.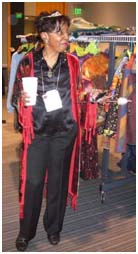 PIQF's 25th Anniversary fashions show, Fashion Flair 2016 has been coordinated by Karen Boutte, "The Quilt Diva".  Karen is a nationally known instructor, lecturer, author and designer. She started sewing as a child and quilting intrigued her since she saw a Cathedral Window quilt made by her Great Aunt Nora in 1989. She decided to become a full-time quilt instructor and began teaching at shops, guilds and quilting events. "There is nothing more rewarding than seeing a student having fun discovering their creativity with fabric and thread," Karen stated. Karen will moderate the fashion show.
Pacific International Quilt Festival is generously sponsored by Founding Sponsor BERNINA: California Sew & Vacuum, Major Annual Sponsor Brother: Meissner Sewing, Major Sponsors Gammill: Meissner Sewing, Baby Lock: Eddie's Quilting Bee, Janome: Ray's Sewing Machine Center, Handi Quilter, ABM/Innova, Nolting Longarm Quilting Machines, Quilter's Slidelock, SewBatik and IntelliQuilter.
View and/or print the complete brochure from our website, www.quiltfest.com or to receive a brochure in the mail, email mancuso@quiltfest.com or write to PIQF – Dept P, PO Box 667, New Hope, PA 18938