World Quilt Show Florida
January 18-20, 2018
Orange County Convention Center – Orlando, Florida
Learn something new and exciting this January at the World Quilt Show Florida held at Orlando's Orange County Convention Center, January 18-20, 2018. With only two quilters per Innova machine, this is your chance to learn new, or master already acquired longarm skills. Taught by Gina Perkes, these workshops are a great opportunity to train on an Innova with its exclusive Lightning Stitch – the ultimate in stitch regulation!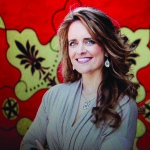 Gina, an internationally award-winning quilter, has been quilting for nearly two decades and has developed many tools for machine quilters and a thread line with Superior Threads. She has appeared on several quilting shows and is the author of: Mastering the Art of Longarm Quilting published by C & T. She operates her shop, The Copper Needle, an Innova dealership, and training center in Payson, Arizona. Gina loves working with other quilters, sharing her techniques and helping them find inspiration and gain confidence. She teaches both domestic and longarm techniques and, believing that quilting is therapeutic, strives to create a stress-free, fun learning environment for her students.
Gina Perkes' Longarm Workshops – each limited to just 12 students!
Thursday, January 18:
The Fundamentals of Longarm Quilting, 8:00 am to 12:00 pm
Beauteous Blocks and Borders, 1:00 pm to 5:00 pm
Friday, January 19:
Make Mine Modern, 8:00 am to 12:00 pm
Glorious Grids with Fillers, 1:00 pm to 5:00 pm
Saturday, January 20:
Quiltside Tools, 8:00 am to 12:00 pm
Free Motion Edge to Edge Designs, 1:00 pm to 5:00 pm
For detailed information about Gina's workshops, please visit www.quiltfest.com.
World Quilt Florida is generously sponsored by Major Annual Sponsor Brother/The Sewing Studio Fabric Superstore; Major Vendor Sponsors BERNINA/Wandering Stitches, Juki – Baby Lock/The Sewing Studio Fabric Superstore, Innova Longarm Quilting Systems/Florida Quilting Center; and Silver Sponsor Handi Quilter/Heart of Florida Sewing Machine Co.