Talented Israeli Instructor and Quilter
to Travel to Manchester for Global Event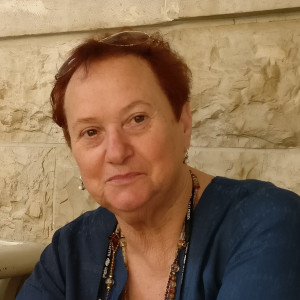 For the 16th annual World Quilt New England (WQNE) taking place at the Center of New Hampshire, attendees are anticipating so much more than fabric and thread. During the quilt festival, held from Thursday, August 16 to Saturday, August 18, eager students have the opportunity to further their quilting education. Individuals can sign up for workshops and be taught by a lineup of 12 wonderful instructors. This year World Quilt New England has the honor of hosting international instructor Eti David, a native of Ramat Hasharon, Israel.
Arriving with her quilts and fabric, she brings an entirely different perspective on the art of quilting. Not only can she impart her skill set and quilting knowledge, she will also offer a cultural lens to her students. This is the reason why World Quit New England, home to international quilts, is the perfect festival to have her participate in.
Since her beginnings in patchwork and quilting 40 years ago, Eti's completely immersed herself into the quilting world. In 2005, she attended QSDS (Quilt Surface Design Symposium) one of the most comprehensive art conferences in the world. Here she learned more about fusing and was able to perfect her techniques. This trip would later change her attitude towards art quilts and help shape her current teaching methods.
Eti's outlook on quilting continues to be inspired by daily life, particularly from the work of painters in her country, and from the simplicity and beauty of the nature around her. She uses commercial fabrics as well as her own hand dyed fabrics to create her quilt masterpieces. Her choices in fabrics helped her win the Hilary Morrow Fletcher Award, "Persistence Pays." In this particular work titled "Orange Towers," she practiced using only one fabric for the entire quilt.
Throughout the years she has partaken in numerous group and solo quilt exhibits in Israel, Europe, and the United States. Eti's unique approach to quilting and her diverse cultural background is sure to present a new way of viewing the craft of quilting.
Eti will be teaching three full-day workshops each day from 9 am to 4 pm at WQNE. The first titled "One Line Variation" will take place on Thursday and will explore the main principles of composition and how complete composition can be attained by the use of lines. In her second workshop "Mikado," students will be creating a quilt that represents the Japanese tradition of sleeping on the floor by playing with lines, rhythm, and flow. This class will take place on Friday and her last class, "Waves", will be on Saturday. In this workshop, Eti will show students how to create an interesting and complex flow of waves in their quilt by utilizing an array of colors and shapes.
As well as an instructor for World Quilt New England, Eti is the official Israeli world quilt coordinator for the World Quilt Competition. From the Manchester venue, select U.S. winners and all international entries, including the ones coordinated by Eti David, will travel across the country to three other Mancuso Show Management quilt festivals in PA, CA, and FL. Eti David will also be the third panelist for the World Quilt Panel & Forum Ice Cream Social Friday at 4:30 pm.
Major Sponsors Innova Longarm Systems / Old City Quilts, Pfaff – Husqvarna Viking / Nashua Sew & Vac and Silver Sponsors Gammill and Handi Quilter / Bits 'n Pieces have generously sponsored the 2018 World Quilt New England. 
For complete show details and to register online, please visit: www.quiltfest.com.