Among the three amazing fashion shows to be featured at The Pennsylvania National Quilt Extravaganza, held at the Greater Philadelphia Expo Center in Oaks (Valley Forge area), PA September 15-18, 2016 is Karen Boutte and Rachel Clark's "Inspired & In Style." The fashion show, on Friday, September 16th at 2pm, includes garments from both Karen Boutte's and Rachel Clark's extensive wearable art collections.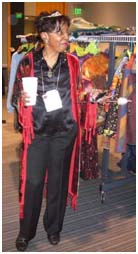 Karen will moderate all three fashion shows at PNQE including her own on Friday. She has worked with Mancuso Show Management on the Pacific International Quilt Festival's fashion show for over 15 years so she knows very well what makes a fabulous fashion exhibition. For Karen, who is always seen wearing her tiara, a show is 50% wearable art and 50% entertainment. Her collection to be shown is eclectic with casual and dressy pieces, garments she made for a challenge or pieces created because "that fabric said make me into something."
Karen Boutte, "The Quilt Diva" is a nationally known inst
ructor, lecturer, author and designer. She started sewing as a child and became inspired by her Great Aunt Nora's Cathedral quilt. Karen was in awe of the beautiful artwork and soon after joined a local quilt guild to find out more about quilting. Years later Karen decided to become a full-time quilt instructor and began teaching at shops, guilds and quilting events. "There is nothing more rewarding than seeing a student having fun discovering their creativity with fabric and thread," Karen stated.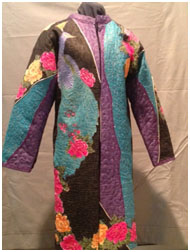 In 2004 Karen wrote a book, Delightful Diva Designs, Wonderful Whimsical Wearables, and she and her work have been featured in several publications over the years.
"I love selecting fabric for a project. The color, texture and design possibilities are endless. Nothing makes my heart sing more than visiting a variety of quilt shops looking for just the right fabric for a new project. I love to collage various fabrics and create story quilts and garments. I use raw edged appliqué, thread painting, beading and lots of embellishments."
"Inspired & In Style" will also feature garments created by Rachel D.K. Clark. Rachel is a contemporary folk artist,  teacher and lecturer who comes from a long line of sewers, beginning
with her great-grandmother.  Rachel started quilting as a child and continued sewing through high school. She credits her aunt and high school home economics classes with teaching her sewing and basic quilting techniques that allowed her to pursue a career in wearable art. She has been a wearable artist for over 30 year and has taught on the national circuit for more than 20 years. Like Karen, Rachel's work includes eclectic fabric mixes, vibrant designs, and a keen sense of wit. While her work can be whimsical, political or a personal statement, it always reflects her love of traditional quilt making. Rachel's muses vary; one of her most famous pieces, her Running With the Wolf coat celebrates and honors the blues singer Chester Barnett aka "Howling' Wolf."
She has done several one-woman exhibits including Pacific International Quilt Festival and her work has been featured in various gallery shows, magazines such as "Threads", and "The Quilting Quarterly," the Bernina Fashion Show and on "The Home and Garden Channel's" Simply Quilts. Right now Rachel is having a love affair with Beige, Chartreuse and creating coats.
Together Karen and Rachel offer a beautiful collection of wearable art garments. For more information on their fashion show, visit https://www.quiltfest.com/upcoming-shows-and-events/pennsylvania-national-quilt-extravaganza/additional-information-2/pnqe-goes-fashion/
Major sponsors Brother/Byrne Sewing Connection, BERNINA/Steve's Sewing, Vacuum & Quilting, Baby Lock/Hayes Sewing Machine Company, Janome – Elna/Pocono Sew & Vac; Silver sponsors ABM international Innova and Handi Quilter; and Special Vendor Sponsors French Connections and SewBatik generously support the Pennsylvania National Quilt Extravaganza.