Celebrating 24 years, the Pennsylvania National Quilt Extravaganza returns to the Greater Philadelphia Expo Center (Oaks, PA) this September 14-17.  Two outstanding fashion shows will, once again, be part of this not-to-miss event.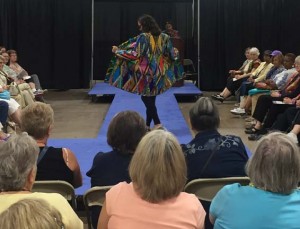 Award-winning fiber and textile artist, Vickie Clontz, of Annie's

Keepsakes, will be the moderator of both fashion shows.  On
Thursday, she presents her "Celebrating Art & Fashion" creations at 2:00pm.  Inspired by nature and art from around the world, she will
explore a wide variety of textures, hues and shapes in this captivating collection of wearable art. Join us as we embrace our unity in creativity and applaud our diversity in individuality on our journey of love, learning and illumination. There will also be a Special Accessories in this cultural blend of clothing created by the "Art Tarts" art quilt group of Charlotte, NC. To see more of Vickie's work, please visit her web-site at www.annieskeepsakes.com.
Saturday at 2:00pm, Vickie turns her attention to the presentation of the SewBatik Challenge Fashion Show.  This challenge was created last year by Bruce and Diane Magidson of SewBatik in
conjunction with Mancuso Show Management and asks entrants to be inspired to create day to day street wear or runway style garments.  This year, the challenge fabric is Paisley Esprit – Midnight Sand Storm (pictured left).  Vickie Clontz will award the Judge's Choice prize to the top entry as well as an Honorable Mention ribbon and the audience will vote for the garment to win People's Choice. As you read this and become inspired to create your own garment visit www.sewbatik.com (Our Products menu – SewBatik Challenge) to enter.  Entry deadline is August 14, 2017.
These fashion shows are included with your paid admission to the Pennsylvania National Quilt Extravaganza.  Come and be inspired!  For more information about the quilt festival, visit www.quiltfest.com.
Pennsylvania National Quilt Extravaganza XXIV
The Center of It All for Quilts, Wearable & Textile Art
September 14-17, 2017
Thursday, Friday & Saturday 10am – 6pm
Sunday 10am – 4pm
Greater Philadelphia Expo Center
100 Station Avenue, Oaks, PA  19456