Quilt & Wearable Art Competitions
With over 500 quilts and works of wearable and textile art on display, it is no wonder that the Mid-Atlantic Quilt Festival, held February 23-26, 2017 in Hampton, Virginia, reaches out to artists from the Atlantic to the Pacific. Included in the exhibits on display a the 2017 festival are the entries to the annual Quilt and Wearable Art Competitions highlighting the talent and creativity of regional as well as national artists. As always, the entries to these competitions should not be missed!
From Atlantic to Pacific the quilting is terrific! Quilt artists are asked to respond to, "Where are you from? How does this affect your quilting?" The accepted quilt entries will compete in the Traditional, Innovative and Mid-Century Mod categories and in the Wall Quilt competition with awards and prizes totaling more than $16,500 in value.
The Wearable Art Competition entries will also be on display with a collection of beautifully crafted and stunning wearable designs. It doesn't matter what's hot right now and what's now in fashion, with the bright colors, intricate detail and wear-ability, these amazing vests, jackets, coats and full ensembles will always remain in style and definitely prove that clothing can make the mannequin! The best from among these works will be awarded over $2,800 in awards and prizes. These stylish and elegant wearable art entries are an absolute fashion must-do.
Quilters and wearable artists may enter the M-AQF competitions on quiltfest.com; the online and postmark entry deadline is January 24, 2017.
And now for some eye candy … entries from the 2016 M-AQF Competitions:
2016 Wearable Art Competition Best of Show by Eileen Daniels

Moonflower by Molly Y Hamilton-McNalley

Lotus Joy by Gretchen Gibbons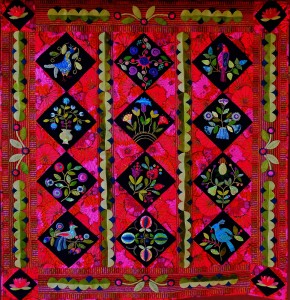 Lakeside Avenue by Wanda Ann Dotson

Night Shift by Sarah Jillard

Founding Sponsor BERNINA/Nancy's Calico Patch; Major Annual Sponsor Brother/Tidewater Sew-Vac; Major Sponsors Baby Lock/All Brands, Elna/The Quilters Studio, Janome/ Tidewater Sew-Vac, and Pfaff/Bella Fabrics; Silver Sponsors Innova and Handi Quilter; and Special Vendor Competition Sponsor IntelliQuilter  generously sponsor the Mid-Atlantic Quilt Festival.