Join us for summertime fun  …
Don't just GO to a New England quilt festival  …
VACATION at one!
An Amazing Global Event Returns
to the Center of New Hampshire
World Quilt New England
Manchester, New Hampshire ~ August 18 – 20, 2016

Mancuso Show Management's Outstanding New England Quilt Festival, World Quilt New England, returns to the Radisson Center of New Hampshire in Manchester, Thursday, Friday and Saturday, August 18 – 20, 2016. Plus, and new for 2016, the festival will open to all (those who are pre-registered and those who purchase admission at the show) on Wednesday evening, August 17 from 7:00 pm to 9:00 pm.  A great long weekend can be spent at World Quilt viewing the spectacular collection of quilts and textile art from all over the world in the event's international competition and special exhibits, learning new techniques and quilt and sewing secrets from the internationally known faculty in workshops and lectures, and shopping in the Merchants Mall. Come be inspired!
The overall highlight for quilt enthusiasts attending this show is the annual premier of the World Quilt Competition. Now in its twentieth year, this international competition draws entries from across the globe. See how quilters from around the world approach their art! The competition is judged at the Manchester venue where the entries will be on display and viewed for the first time in the United States. After New Hampshire, selected U.S. winners and all of the international quilt entries tour to other Mancuso Show Management venues in Pennsylvania, California and Florida. Pictured: Humming Bee by Judith Wilson, UK, Honorable Mention 2015.
You will also enjoy a wide range of quilt and textile related activities
including workshops and lectures presented by a renowned faculty. The 2016 faculty includes Rosalie Dace who is from South Africa, and instructors from across the United States including Frieda Anderson (IL), Pamela Druhen (VT), Pat Harrison (RI), Marjan Kluepfel (CA), Dierdra McElroy (CA), Bobbie Bergquist (NH), Bonnie Dwyer (ME), Debora Konchinsky (PA), Nancy Murtie (FL), David Sirota (NH), and offering quilt appraisals Joyce Fischer (NY). Join one or more of these talented instructors in a workshop to learn a new technique or perhaps brush up an old one. Pictured: Rosalie Dace (South Africa).
Among the highlights of the 2016 show are two special luncheon presentations by well-known instructors Bonnie Dwyer and Rosalie Dace, and the always-popular World Quilt Panel & Forum Ice Cream Social. In addition, the World Quilt Show will continue to offer its all-inclusive show and hotel package for those who prefer an easy, package plan.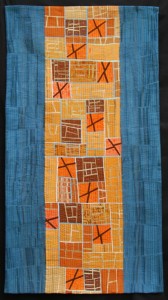 After viewing all the wonderful quilts, it's time to shop. This exciting venue offers a fabulous merchants mall with exhibitors who travel to New Hampshire from throughout the country. From books to threads, from scissors to thimbles, from fabric to patterns there will be everything imaginable available for purchase by the quilt artist and needlecraft enthusiast.

World Quilt New England is an amazing opportunity to see the work of quilt artists from across the United States and from abroad. This show, the only one of its kind, is not to be missed! Nothing beats New England in the summer! Pictured above left: Pro und Kontra by Martina Hilgert-Vervoort, Germany, Honorable Mention 2015.
World Quilt New England is generously sponsored by ABM International / Innova, Handi Quilter and SewBatik.
For complete show details and to register online, please visit World Quilt New England.  Click here to enter the World Quilt Competition; international competition entrants, please click here.
When you go …