Discover the World of Quilting Arts
After an exciting and adventurous 2017 in Central Florida, Mancuso Show Management announces that World Quilt Florida will again return to Orlando, January 18-20, 2018. Mancuso Show Management is thrilled to return World Quilt Florida to such an amazing city! The festival will be held in Hall WE2, West Concourse of the Orange County Convention Center on Thursday, Friday and Saturday from 10:00 am to 5:00 pm each day. This unique quilt and textile event offers attendees a trip around the world – no passport needed!
View how the other side of the globe creates their quilts! The show will exhibit the international entries as well as selected United States ribbon winning entries from the 2017 World Quilt Competition. An outstanding nine countries are represented in this beautiful collection including Australia, Canada, Germany, Israel, Japan, New Zealand, South Africa, the United Kingdom and the United States.
David Mancuso, President of Mancuso Show Management states, "This is the most comprehensive collection of international quilts displayed in the US."
The quilt show will also include the Florida Quilt Competition, open only to residents of Florida. Like a fine art show, the entries to this competition are an impressive showcase of some of Florida's most talented quilt and textile artists. It's a wonderful opportunity for quilters to experience the diversity and creativity of their fellow enthusiasts.
The World Quilt Competition – On Tour, the Florida Quilt Competition and other special exhibitions allow attendees to view over 500 quilts! For those who love anything quilt related, this display of quilt art should not be missed!
The aisles of the World Quilt Merchants Mall will be filled with everything a happy shopper could possible imagine and more:  sewing machines, long arm machines, machine accessories, needles, pins, fabric markers, books, jewelry, thread, more fabric than you've ever seen in one place, notions, batting, patterns, stencils, finished 'art' clothing and patterns for clothing, shoes, jewelry making supplies, sewing machine carrying bags, scissors, rotary cutters, rotary cutting mats, rulers, magazines, magnification products, yarn and knitting supplies, trims, buttons, beads, stencils and more … much, much more!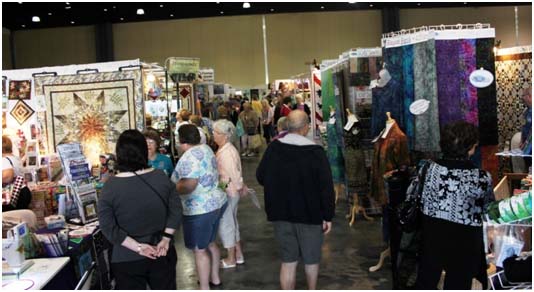 In addition, workshops and lectures are available for those quilters looking to learn new techniques and work with some of the most talented and world-renowned quilt instructors. Quilters wanting inspiration with a large dose of entertainment will not want to miss the opportunity to learn from such a fantastic faculty including Frieda Anderson, Linda Hahn, Mark Sherman, David Sirota, Michele Sanandajian,  the "new for 2018" longarm workshops taught by Gina Perkes and more.
The World Quilt Show Florida is generously sponsored by Major Annual Sponsor Brother/The Sewing Studio Fabric Superstore; Major Vendor Sponsors BERNINA/Wandering Stitches, Juki – Baby Lock/The Sewing Studio Fabric Superstore, Innova Longarm Quilting Systems/Florida Quilting Center; and Silver Sponsor Handi Quilter/Heart of Florida Sewing Machine Co.
Pre-registration and other information is available on the show's website.