Talent, creativity and expertise surround World Quilt Florida, which will take place in Orlando's Orange County Convention Center, January 19-21, 2017. A spectacular faculty will offer a wide variety of workshops for the beginner to the more advanced quilter.
Included in the stellar line-up of instructors is well-known quilt maker and teacher Linda Schmidt who will present several workshops and a lecture/trunk show. Linda's easy-going teaching style has made her a sought-after instructor on the national circuit for more than 20 years.
Pictured above:  Rendezvous in Florence – A "quilted head shot" of Linda by Linda.
Linda's quilting philosophy is that she firmly believes you can do whatever you set out to do, as long as you have the tools and techniques to get you there. She comes from a long line of quilting women and started her first quilt at the age of eight, and has made almost all of her own clothing since she was twelve. She has, of course, made hundreds of quilts and has won over 300 ribbons from local, national and international quilting exhibitions.
Linda stated, "The bottom line is that there is nothing I like better than to talk to people about quilting, unless it is making quilts and wearable art. I have an eclectic taste in quilts and quilters, an insatiably inquiring mind and a sincere desire to help others learn what they need to know in order to do what needs to be done. So, welcome to my world!"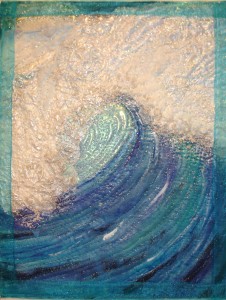 Linda will present three, full-day workshops at World Quilt Florida. On Thursday, January 19, join Linda for Fantasy Forest; you will create a miniature forest scene while learning design principles as you work with a wide variety of techniques and products. On Friday, Linda offers her classic Creating with Cool Stuff workshop where you will experiment with "cool stuff" that will enable you to create waterfalls, trees, clouds, streams and abstract art. The Perfect Wave is Linda's half-day workshop on Saturday, January 21. Linda says, Come jump in – the water's fine!" While creating your perfect wave you will try out all sorts of products and interesting techniques. Pictured: The Perfect Wave.
Short Attention Span Quilting is Linda's 4:30 pm, Friday, January 20 lecture and trunk show. This event is a grand panorama of Linda's art quilts starting with her first blue ribbon quilt and moving on through her adventures in quilting with a few wearable art garments thrown in … just for fun!
Major Annual Sponsor – Brother: Sewing Studio; Major Vendor Sponsors – BERNINA of America: Wandering Stitches, Elna: Sew-Mini Things, Juki & Baby Lock: The Sewing Studio Fabric Superstore; Sponsors –  ABM/Innova, and Handi Quilter; and Special Vendor Sponsor –  Granny's Legacy Patterns generously support World Quilt Florida.