The Merchants Mall
The twenty-fourth annual Pennsylvania National Quilt Extravaganza held September 14-17, 2017 was more about "Shopping 'til you drop" than ever. Anyone who has ever attended the Extrav will attest to the vast variety of merchandise that is offered each year by the quality companies in the Merchants Mall.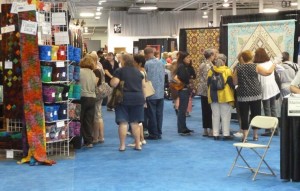 PNQE 2017 featured an extravagant Merchants Mall, filled to the brim with vendors who offered everything quilters, textile artists and needle crafters needed to quench their creative thirsts – quilting supplies, fabric,  books, sewing related craft items, kits, sewing machines, notions, clothing, embroidery, accessories and so much more! Everything needed to make the beautiful quilts and works of textile art on exhibit was available in PNQE's Merchants Mall.


Major Annual Sponsor Brother/Byrne Sewing Connection; Major Sponsors Baby Lock/Steve's Sewing, Vacuum & Quilting, BERNINA/Hayes Sewing Machine Company, Janome/Elna/Pocono Sew & Vac; and Silver Sponsors Handi Quilter and Innova generously sponsored the 2017 Pennsylvania National Quilt Extravaganza.
PNQE will return to the Greater Philadelphia Expo Center, Oaks/Valley Forge, PA September 13-16, 2018. Stay tuned to quiltfest.com to learn our plans for the twenty-fifth anniversary celebration of this outstanding Quilt Extravaganza!